Configuring conky is fun, now it is time to tune up system properties, CPU, GPU, RAM, SWAP, disk IO, temperatures, processor and system load. You should have probably read my previous article on building an rpm with nvidia and images support and the article about loading conky at GNOME startup.

Create the script which is called from the conkyatlogin launcher.

touch ~/bin/conky/cpu.conky
chmod a+x ~/bin/conky/cpu.conky
gedit ~/bin/conky/cpu.conky

Copy and paste:
The result is below: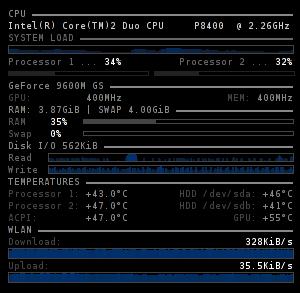 To be continued.